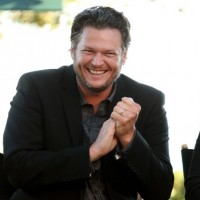 For the final night of 'The Voice' Blind Auditions on Monday (Oct. 6), all the teams filled up with the most worthy of singers. Blake Shelton was the very last coach to fill his team, but eventually, Team Blake was complete.
Before the final night of auditions started, Shelton commented on his his already very talented team, saying he got some "real good ones." The country star's first chair turn of the evening went to self-proclaimed class clown Matt McAndrew. He sang 'A Thousand Years' and got all the judges except for Gwen Stefani to turn around.
Shelton even tried to sway him into joining Team Blake by comparing how similar they are. "You're a solo artist, I'm a solo artist … Who else can you relate to more than me?" he told the hopeful.
Cutie pie Ryan Sill, who comes from a musical family, sang 'Secrets' and got a quick turn from Stefani. Eventually, Shelton turned his chair, too, and commented on how he looks like his voice. Shelton fought hard for him, complimenting his "cool" look and sound, but Sill went with the charming Stefani in the end, disappointing the country star.
Fernanda Bosch made Shelton's night a little better, however. She sang Macy Gray's 'I Try' and got both Shelton and Stefani's chairs to turn. Shelton clapped hard for her and pushed for her to join the team, which she did, addition she doesn't listen to country music, but that she watches 'The Voice' and called Shelton a "great coach." The victory got him to dance, even!
A Southern belle was up next, but despite her Souther heritage, Beth Spangler doesn't sing country. Shelton, Stefani, Pharrell Williams and Adam Levine turned their chairs and had to duke out who would win after her cover of Beyonce's 'Best Thing I Never Had.' The four judges fought hard — Stefani offered her clothes, while Levine offered the shirt off his back. In the end, Spangler chose Levine, filling the final spot on his team.
Shelton finally found his final member in 15-year-old Justin Johnes. Johnes sang 'Let Her Go' as his first live performance … ever! The country singer was in disbelief that it could be his first time performing, complimenting his voice. Johnes officially joined Team Blake with a shirt that read "Blake's Boo."